Granite or quartz: which one is better? This is a question we get asked frequently and before diving into the differences the overall answer is simple: If you like the color and pattern, you can't go wrong!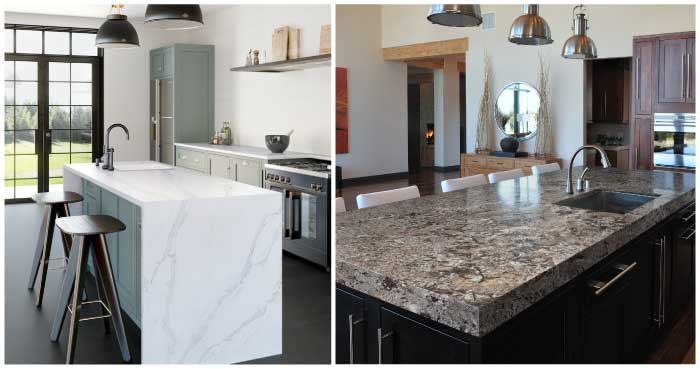 Granite
Granite countertops are mined in quarries and therefore, are a natural stone. Granite is mainly composed of quartz and feldspar with minor amounts of mica and other minerals. This mineral composition usually gives granite a red, pink, gray or white background with dark mineral grains in colorful shades with striking flakes throughout the rock.
Granite Slabs Are Unique
Because granite comes from the earth, each slab is unique. Granite is porous and needs to be sealed or treated to protect the stone against stains. It should be resealed as needed to maintain its beauty and durability.
Granite is Durable
The color of granite countertops will never fade. They are extremely durable, coming in second to diamonds in terms of natural materials. Granite can resist chipping, scratching and cracking. Placing hot items and cutting on them will never damage the surface.
Why choose Granite?
No two granite slabs are the same because it comes from the earth
You can feel the porosity on granite, even when sealed
Although the technology for granite sealers has improved, it is hard to determine when resealing is needed. A sealed surface helps with the overall hygiene and avoid stains
Quartz
Quartz countertops are made from engineered stone. They are mostly made from quartz but contains binders which are polymer resins. Quartz has the appearance of natural stone but since it is engineered stone the creative options for colors and textures are limitless.
Anti Microbial Properties of Quartz
Since quartz is nonporous, quartz counters are super easy to clean. They are recognized as being antimicrobial. This hygienic benefit is one of the reasons that quartz has become so popular with families.
Quartz is Low Maintenance
Due to the nonporous qualities of quartz, sealing is not required. Quartz is also scratch resistant. Despite this, we still recommend using cutting boards and being cautious when handling sharp kitchen tools around your quartz counters.
Why choose quartz?
Large selection of colors and styles
It is low maintenance (no sealing required) and the more hygienic option
Stain resistant due to it being non-porous
It is low maintenance (no sealing required) and the more hygienic option
Stain resistant due to it being non-porous
Still not sure which one is right for you? Our experts can help you choose the perfect countertop to fit your space and lifestyle! Give us a call at 612-322-9967 or contact us to schedule a consultation!