There are so many different types of stone countertops it can be hard to choose the best option for your project. From the natural beauty that is granite to the ultra durable ultracompact surface, we break each of them down so you can learn the differences between them and make an educated decision for your home.
Ultracompact
This material is man-made stone from a mixture of inorganic raw materials found in glass, porcelain tile and natural quartz. The product is highly resistant to impact, scratches, abrasion and has very low water absorption, making it perfect for use in high-traffic areas. This surface has unique designs to resemble other surfaces like natural stone, wood, metals or concrete with high durability and low maintenance. This material can be used outdoors, as well as applications like kitchens, decks, facades and floors.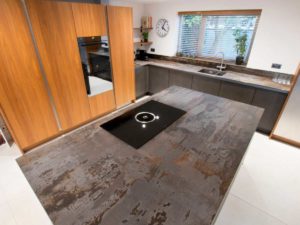 Quartz
This material is made by combining quartz, a natural mineral, and modern technology. Because it's bonded together with polymers, it becomes a highly durable countertop with a wide selection of colors. Since it is a man-made product, it can also be produced in a variety of colors to meet the demand for the most popular looks, and it is even available in options that look like granite and marble. From traditional to contemporary, you can find any color to fit your design and space. Quartz is non-porous so it does not require sealing, making it a low maintenance and simple to clean. It is also heat resistant, chemical resistant, and fends off etches and scratches.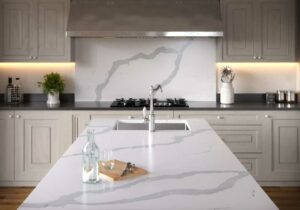 Granite
Granite is a natural material that is both distinctive and durable for a beautiful kitchen. Granites is mainly composed of quartz and feldspar with minor amounts of mica and other minerals. This mineral composition usually gives granite a red, pink, gray or white background with dark mineral grains in colorful shades with striking flakes throughout the rock. Granite is porous and needs to be sealed or treated to protect the stone against stains. It should be resealed as needed to maintain its beauty and durability.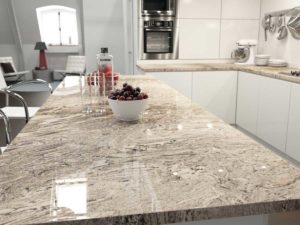 Travertine
Travertine, like quartz and granite, is a durable countertop solution, as well as highly versatile. The creamy neutral beiges and browns of Travertine lends itself to classic Old Word style; transforming kitchens into warm, inviting spaces. It comes in both slabs and coordinating tiles that can be used for flooring and backsplashes to create a muted look.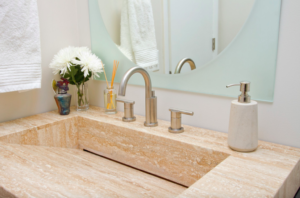 Soapstone
Soapstone is a classic choice that is coming back into popularity for both indoor and outdoor applications, as well as for kitchen countertops. It is a durable stone that is not very absorbent, so stains do not penetrate easily. It can be sealed or oiled, and owners who enjoy aging a stone will see it darken with a lovely patina over the years. Soapstone is also easily refinished and restored, so it can be updated over time if desired.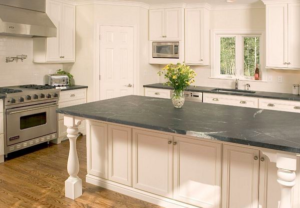 Quartzite
Quartzite is often confused with quartz, but it is not the same. Quartzite is a natural stone that originated as sandstone and also includes the mineral quartz, which is what gives it sparkle. In essence, quartzite is a fusion of marble and granite, creating the elegant look of marble, with the durability of granite. Like quartz countertops, quartzite doesn't etch, but does require sealing to protect its natural beauty.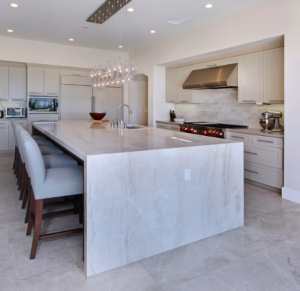 Marble
Marble is also a natural stone that is easily recognizable. Its characteristic veining and bold, white backdrop makes it a classic option that can achieve modern or classic looks. Marble is most commonly known as a bright white or grey look, but it also comes in other shades like pinks, blacks, oranges and reds. Marble is a porous stone and it is known to absorb spills as well as scratch and etch. With proper care, a marble countertop will stay beautiful so don't rule it out. Sealants and cleansers for marble have come a long way!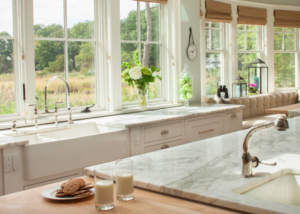 Onyx
Onyx countertops are a rare option – they are striking and luxurious and often used for vertical surfaces as bold statement walls in high-end residential and commercial designs. As a flat surface in the kitchen, onyx can be a functional piece of art you get to see every day, especially with under-counter lighting, as onyx has a transparent quality like no other. Onyx generally comes in swirling and pastel color patterns, and each piece is as unusual as the last. It is most suited as an accent countertop or bar area that does not see as much traffic, though with proper care, polished and sealed, onyx performs similarly to marble.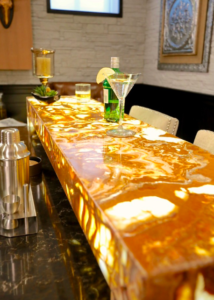 Whether you are looking for a low maintenance option or a showstopper natural beauty, we are your one stop shop for your countertop needs! Our experts would love to help you choose the perfect stone and color for your space and lifestyle. For a free estimate or more information, contact us or give us a call at 612-322-9967.